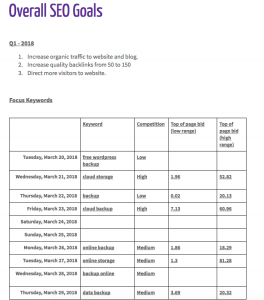 SEO Service
Create an SEO plan
The very first thing we do is create your SEO plan. This means that we use specialised tools, to find keywords that are low competition, with as high traffic as possible.  Traffic is not the most important consideration yet. Initially we want keywords that are very low competition. What this means is that you get page 1 positions quickly. Once Google sees good quality content getting page 1 positions they start to see your site as more authoritative. We will build your authority over a six month to one year timeframe.

Once your authority is built to a decent level google will start giving you more competitive keywords, with the same amount of workload required as was required for the low competition keywords. This means your first SEO plan iis set up to build your authority and give you a number of page 1 positions on low competition keywords straight away.  Even if you currently have a very low authority website.

Google is always changing the algorithm as the changes we change our system, this means that the plan may change from the original credit plan, but the panel always keep up with Google's algorithm

Blogging

Blogging is a very important part of your SEO plan. Google want to see high-quality content on your website and also on your social media. We will research the Internet create your logs and optimize them for Google's algorithm. We have a full SCO checklist to make sure all of googled some Clements I met. We also will make sure the requirements of your readers I met two points so find your size you want to make sure that they find the information interesting. Part of this is building a customer avatar and finding what that avatar is interested in. For example, if you wanna beauty salon, your customer avatar may be interested in celebrities. Alternatively if you run a office appliance company, the customer avatar may be interested in current business news. Whatever their interest is we will find it and create interesting, content that they are interested in interested in reading. We will link is content to your SCO plan which has the keywords that we want to get.

Get a list of competitors backlinksIt is very important that we initially get a list of your competitors back links. I even though this is not as important as it used to be, because usually find a lot of your back links are very low quality, it still makes sense to find out where your back links are coming from. If the high quality ones in there at local newspapers Wikipedia you need to know because you may need similar links.
Setup position tracking

Position tracking is very important, even though getting your content on the web and building your eternity is more important than simple positions, you still want to keep an eye on positions you are getting. In general we will get to keywords on page one of Google every month.

Setup Google+
Google plus is a gift from Google. I know that most people will use Facebook rather than Google plus, but all of Google plus links are follow links and Google loves it. If you are not putting your content on Google plus you're making a huge mistake.
Setup Facebook
It is important to have a Facebook strategy. If you don't have Facebook set up, will get it set up for you and all your beautiful branding. Once that there need to get your content on the Facebook. The content will be posted up on a consistent basis.

It is up to you to look after messages from Facebook and look after requests that's not part of the SEO process.

Setup Twitter

Setup Google Search Console
It is important that we set up a monitor Google search console. If Google has any messages that they want you to know about they will put them here. It is really the only way that Google communicate with website owners. This will be set up my arse and monitored by us but we will let you know if there's any important messages that need your attention. Most of the messages will be technical information that will help us to better job for you.
Setup Google Analytics
Google analytics of vital, without googling lyrics were driving blindfolded. Tells us exactly what we are doing right and exactly what we're doing wrong. One of the most important things we need to measure is something called your bounce rate. This tells us that people are staying on the site, I'll leave in quickly. If people are leaving quickly is assigned to google that the content is not high enough quality. This will be monitored and we will change our strategy based on the results we get.
Setup a free Agile CRM account
you need some kind of CRM account. A CRM is basically just a database of clients. The advantage it gives you though is that you can send email to them scheduled basis, you can usually send texts also and you can tell if somebody is visiting your website. You can usually also get an idea of what product to service their interest in Mosley. Based on my page is the visit on the website. This important information. With the new GPRS legislation, we have to make sure that we have permission for any information that you hold on a client. Just come in apart part of setting up your forms and your CRM system. Presently we recommend I just see around, because of the low cost and high functionality in office, but there are many other good options also.
Monthly
Duplicate content check
Cornerstone content
Backlinks: Blogs
Backlinks: Quora